Search for missing AirAsia flight resumes in Java Sea
Comments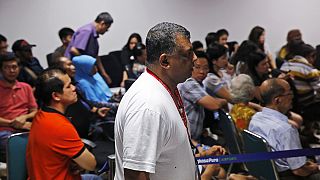 Rescuers in Indonesia have resumed the search for a missing AirAsia flight with 162 people on board.
Flight QZ8501, an Airbus 320-200, lost contact with Jakarta air traffic control tower half way into the two hour flight from the Indonesian city of Surabaya to Singapore.
Relatives of those on the missing jet have been gathering in the hope of hearing news of the plane's whereabouts.
On board were 155 Indonesians, three South Koreans and one each from Singapore, Malaysia, the United Kingdom and France.
At Singapore's Changi Airport Louise Sidharta, whose fiancé is a passenger on the AirAsia flight, had been waiting for him to return from a holiday with his relatives:
"He had planned their final family holiday together before our wedding, she said. It was his last holiday alone with them."
Indonesia's transport ministry said no distress signal had been sent from the crew before it disappeared.
However, AirAsia said the pilots had requested to increase their altitude to avoid bad weather over the Java Sea before losing contact.
Indonesian authorities have been offered help in the search and investigation from Singapore, Malaysia, South Korea and Australia.
Rescue planes and boats have been scourging the area for any signs of the jet, however poor weather has been hampering their efforts.