Number of Italy ferry fire victims rises amid fears more may be missing
Comments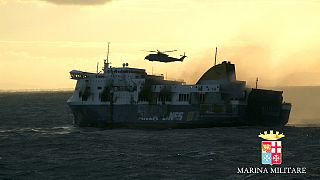 The number of people known to have died after the fire on an Italian ferry off the Greek island of Corfu has risen to ten.
The 36-hour rescue operation came to an end, but Italian and Greek authorities have been trying to verify the exact number of passengers amid fears that more people could be missing.
An air search of the sea around the vessel has been continuing.
The passenger list said there were 478 passengers and crew on board – at least 40 more than the official number of people rescued.
Some of those on the stricken ship were taken on board other boats.
"We tried to leave the ship, but couldn't do so because of the rough sea, strong wind and rain. We could only put one rescue boat out to sea, the other one on that side caught fire," said the Norman Atlantic's steersman Tommaso De Lauro.
Survivors – many of whom were winched to safety – have been telling tales of chaotic scenes as the fire took hold.
"(There was) no alarm, no alarm, no communication, nobody to tell us what to do. I had to look for myself to find a lifejacket, and help to put it on my kids by myself. Nobody was there to.. ok it was panic, it was crazy!" said Greek survivor Athanasios Tsonas, speaking in English.
The Italian-flagged ferry, chartered by a Greek operator, was sailing from Patras in western Greece to Ancona in Italy.
The latest pictures from Monday showed the vessel still smouldering.
Separate investigations are underway in Italy and Albania to establish the cause of the fire, and where the ship should be towed for further examination.