First rescued passengers from burning ferry arrive in Italy; dozens more still waiting onboard
Comments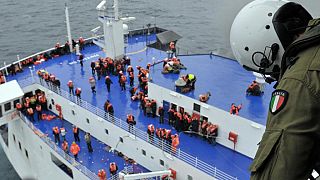 Hundreds of people have been rescued from an Italian ferry that caught fire off the Greek island of Corfu. Dozens more are still waiting to be airlifted to safety.
One person was killed during the rescue operation by the Italian and Greek military. Two others were injured as helicopters took passengers to ten boats waiting nearby.
Early on Monday morning, the first boat with fifty rescued passengers arrived in the southern Italian port city of Bari
The fire broke out before dawn on Sunday on a car deck. Passengers huddled on the ships upper decks throughout the night, during rain and hail, struggling to breathe through the thick smoke.
Survivors described how the heat from the fire felt as though the floors were "boiling."
The Italian press is reporting that one of the rescued passengers says he saw four dead people on board.