Ten confirmed dead as rescue operation ends after Italy ferry fire
Comments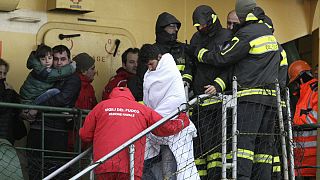 Ten people are known to have died after a fire on an Italian ferry off the Greek island of Corfu.
It's understood that nine bodies have been found, while one man died while trying to leave the ship.
Italian authorities say all of the remaining passengers – 427 people in total – have been rescued.
The fire broke out before dawn on Sunday on a car deck of the ship with 478 people on board.
The Italian and Greek navy worked throughout the night in gale force winds and rain and hail to winch passengers onto a helicopter and then to nearby ships.
One of the survivors described the moment they knew something was wrong.
"The information we got … everything went off. The only thing they said was `fire! fire! fire!`, and we didn`t know why there was a fire. Yes, there was a fire but there was not enough time, and there was little we could do, in five minutes the whole ship was on fire."
It is still unclear what caused the fire to break out. Italian prosecutors have opened a criminal investigation into the fire and say they will look at whether negligence had played a role.