Missing Air Asia passenger jet likely to be "at bottom of the sea"
Comments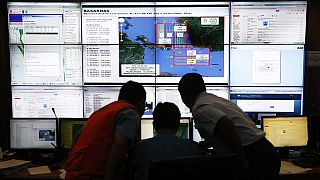 As the search continued on Monday for the missing Air Asia passenger jet, officials said there was no happy ending likely.
Ships and planes from Indonesia, Malaysia and Singapore are scouring Indonesian waters but there is little hope left of finding anyone alive.
"Based on the coordinates given to us and the evaluation that the estimated crash position is in the sea, the hypothesis is that the plane is at the bottom of the sea," declared Chief of National Search and Rescue Agency, Bambang Sulistyo.
One hundred and sixty two people were on board the AirAsia Flight 8501 when it vanished from radar on Sunday, 40 minutes after it took off from Indonesia's second largest city, Surabaya en route to Singapore.
Meteorologists say the airspace was full of "dense storm clouds." The area around the flight path is in monsoon season at the moment.
Family members gathered at a crisis centre, waiting for news of their loved ones.Nearly all the passengers and crew were Indonesians.