Review to be carried out into Air Asia after passenger jet vanishes
Comments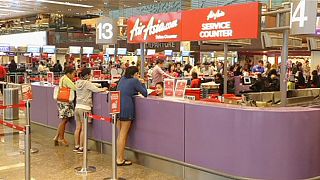 Indonesia's transport minister has said a safety review will be carried out into Air Asia following the disappearance of its passenger jet on Sunday.
Until now the airline has had a good safety record as has the airbus A320 family of jets.
Indonesia however has a history of air incidents with almost 650 people having died in crashes in the last two decades.
On Monday morning, the Air Asia flight from Indonesia to Singapore followed the same route as Sunday's vanished flight. It arrived safely but passengers admitted they had been nervous about taking it.
Passenger Angela Okta Via Koeswanto said: " I wanted to cancel today's flight, but my father told me that, just go on, keep faith that God will save us."
Another passenger, Erick Wiranata Chadra, said it had been an anxious time. "We were kind of worried about what might happen but we were too late to cancel, so we just kind of went through it."
The loss of the Air Asia passenger jet comes after the Malaysia Airlines flight MH370 disappeared in March and another flight MH17 was shot down in eastern Ukraine in July, making it the worst year of this decade for passenger aviation.