Croatia: Josipovic's bid for second term will go to a run-off
Comments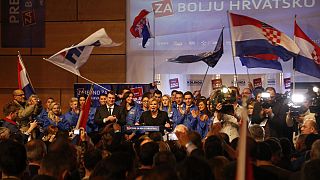 Croatia's incumbent president Ivo Josipovic took a slight lead in the first round of elections for head of state on Sunday.
But having failed to secure a majority of votes, a run-off will take place on January 11th.
Josipovic who's supported by the ruling Social Democrats is hoping for a second five year term and is running against conservative candidate Kolinda Grabar-Kitarovic.
She's a former foreign minister, ambassador to Washington and senior NATO official.
Kitarovic scored 37 percent on Sunday against Josipovics' 38.5 percent.
After six years of recession, many Croatians are desperate for change.
With unemployment at 19 percent, Kitarovic's centre-right HDZ party is expected to beat the Social Democrats in next year's parliamentary elections.