Thousands of cars stranded by snow in French Alps
Comments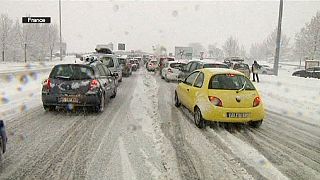 Thousands of drivers became stranded by heavy snow in the French Alps as night fell on Saturday.
At one stage 15,000 vehicles were stuck on main roads to winter resorts in Savoie.
Several French departments remained on alert for ice and snow.
Emergency accommodation was arranged in around 20 towns, with more than 7,000 places.
The authorities warned tourists heading for ski resorts to seek shelter on the way.
There were blizzard conditions in the English midlands, where drivers became marooned in Derbyshire.
Roads were also badly hit in Cheshire, Staffordshire and Yorkshire.
More acute conditions were expected in parts of Scotland later.
It wasn't the weather, but overrunning engineering works that stranded rail passengers at London's Kings Cross station.
There was chaos at a suburban station in north London where trains heading for the capital were diverted.
In Italy strong winds as well as snow aggravated the problems in the centre and south of the country.
In Tuscany sea connections to and from the island of Giglio were cut.