Syria ready to discuss Russia peace plan talks
Comments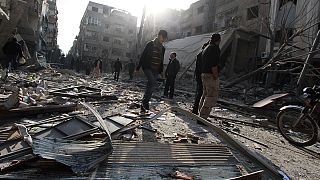 Syria said on Saturday it is willing to participate in "preliminary consultations" in Moscow aimed at restarting peace talks next year to end its civil war.
An announcement on state television said Damascus was ready to take part in meetings in the Russian capital.
Previous talks collapsed in Geneva last February.
The report quoted a source at the foreign ministry.
But members of the Western-backed Syrian opposition have dismissed the Russian plan, saying there is "no initiative".
Moscow has repeated that it is willing to provide a venue for any upcoming talks between Syrian government and opposition.
Foreign Ministry spokesperson Alexander Lukashevich said the talks would take place sometime after January 20, adding that the first stage would bring together home and foreign-based opposition before they are joined later by representatives of the Syrian government.
Russia has staunchly backed Syrian President Bashar al-Assad in his battle against insurgents throughout the nation's civil war.
This week unverified video brought new claims that government forces have bombed civilian areas near Aleppo.
Other footage purported to show government positions being pounded by a rival group to the self-proclaimed Islamic State – illustrating the complexities of Syria's long conflict.