Libyan soldiers killed in militant attacks
Comments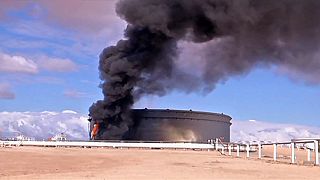 One of Libya's largest oil facilities was hit on Thursday by a rocket as armed factions, allied to competing governments, fight for control of the country's largest export terminal. At least four soldiers are reported to have been killed.
The Al-Sidra oil facility, which was not operational at the time, has been shut for several weeks due to ongoing clashes in the area.
In seperate incident in Sirte at least 19 soldiers were killed after an attack on a power plant.
The latest violence has been blamed on the anti-government coalition Libyan Dawn.
The group seized the capital Tripoli in August and installed its own prime minister.
Since then the recognised government has been operating out of the eastern city of Tobruk.