Rocket hits tank at Libyan oil port Es Sider
Comments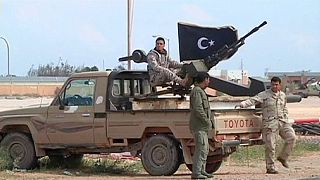 A rocket hit a storage tank at the eastern Libyan oil port of Es Sider as armed factions loyal to competing governments fought for control of the country's biggest export terminal, officials said on Thursday.
Clashes were also reported from Sirte, a city west of Es Sider, killing up to 19, residents said.
Es Sider and its adjacent Ras Lanuf terminal have been closed since a force allied to a rival government in Tripoli moved east trying to take them.
"A tank was hit but the damage is limited," said an official from a security service allied to the internationally-recognised government, now operating from eastern Libya. He said there were heavy clashes in the Ben Jawad area west of Es Sider where he said some of the rival forces were based.
Libya has had two governments and parliaments since a group called Libya Dawn seized the capital Tripoli in August by expelling a rival faction, installing its own prime minister and forcing the recognised cabinet to operate out of the east with the elected House of Representatives.
Western powers fear the North African country might break up as former rebels who helped Muammar Gaddfafi in 2011 now use their guns to control the OPEC producer.