Nurses offer Christmas spirit to Ebola patients in Sierra Leone
Comments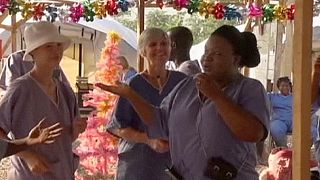 Health workers in Sierra Leone have attempted to offer the feeling of Christmas to patients being treated for Ebola.
Nurses and other staff have sung carols and danced for those being treated in hospitals and clinics.
The virus is still spreading in the country, mainly in the north and west, where some areas are now in lockdown. 315 new cases were reported last week alone.
A third of those new cases are in the capital, Freetown, where new sterilisation equipment has been delivered to try to reduce the chances of contamination.
The global death toll from Ebola has risen to almost 7,600, with 19,500 cases reported.
Freetown resident Juliana Coker said she planned to travel, as she does every year, to spend time in her home village, but Ebola has prevented her from moving.
Shop owner Umaru Barrie complained that there is no business. He said airlines have increased their prices, foreign exchange is going up, and no one from the regions are travelling to the capital. "We're just sitting here," he said.
Like in other countries in West Africa, a public awareness campaign has been launched in Sierra Leone to warn people about the possible dangers.