Food banks provide free Christmas dinners in Greece as austerity cuts bite
Comments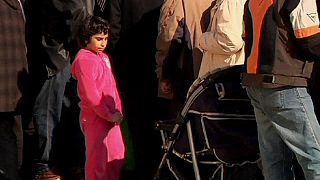 In Athens, hundreds of people have queued up to take advantage of a free Christmas dinner organised by a food bank.
Poverty levels are at an all time high with more than 25% of Greeks without a job. Those who have been out of work for more than a year don't get any help from the state.
Charities say they have seen a sharp increase in the number of people relying on soup kitchens and food hand-outs in the last year.
At the sports hall where the lunch was held, the atmosphere was festive with people grateful to have some respite from the hardship of their lives.
Forty four-year-old Yannis who is unemployed said:"The situation in this country, in Greece, is so tragic. People are being tormented by so many problems. I came here today, on the day Christ was born, to forget my problems, to find some warmth, some peace."
The Greek recession and fierce austerity cuts imposed by the EU and IMF have left many ordinary Greeks struggling to pay their household bills and unable to heat their homes.