Tension in Missouri after police shoot dead another black teenager
Comments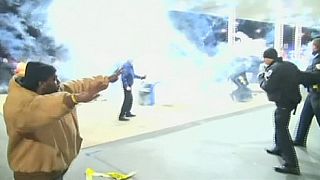 Tension is high in Missouri in the US after police shot dead another black teenager.
The individual produced a pistol, with his arm straight out, pointing at the officer from kind of across the hood of the police car
An 18-year-old black man, accused of pointing a loaded handgun at the police, died after being shot at several times in the city of St Louis.
The death at a service station is near where the police killing of another black teenager, Michael Brown, sparked nationwide demonstrations.
There was a tense stand-off with crowds gathered at the scene. Several people were arrested and some officers were injured in clashes with some of those gathered.
Images from the scene showed what appeared to be people smashing the windows of the service station and looting the premises. What appeared to be fireworks were also set off.
A woman identified as the mother of the deceased answered reporters' questions.
"No, they (the police) don't tell me nothing," she said.
"(My son's girlfriend) told me they went to the store, they were walking somewhere. They were walking and the police… I guess he started to run or something and police were shooting."
Police say an officer had approached the 18-year-old and another man about an earlier crime.
Jon Belmar, the St. Louis County Police Chief, told a news conference: "The individual that is going to have the firearm, he backed away to the east just for a few steps, turned back around, the officer started engaging him in conversation again, and the individual produced a pistol with his arm straight out pointing at the officer from kind of across the hood of the police car"
Police released CCTV footage that they say shows that the deceased had raised a gun at the officer.
They say the second man fled the scene.
The St. Louis Post-Dispatch newspaper named the dead man as 18-year-old Antonio Martin, citing his mother.
The scene is just minutes away from Ferguson, where unarmed teenager Michael Brown was shot by a white officer in August.
A grand jury decided not to charge the officer involved in that case.
Police assert that video shows suspect raising gun before officer opened fire in Berkeley, Mo. http://t.co/rgvWXNL9vOpic.twitter.com/zBfKZlQkNx

—

ABC

News (@ABC) December 24, 2014
Mayor: Police shooting incident in Berkeley, Mo., couldn't be compared with Michael Brown, Eric Garner cases – http://t.co/rgvWXNL9vO

—

ABC

News (@ABC) December 24, 2014
In Berkeley at fatal officer involved shooting, fights, explosive device thrown into fight, brief fire at QT put out pic.twitter.com/0JovSbrJVp

— David Carson (@PDPJ) December 24, 2014
Berkeley officer fatally shoots teenager http://t.co/9UvC8HmAbp

—

STL

today (@stltoday) December 24, 2014
The mother of #AntonioMartin: 'They started shooting. That's my baby' #berkeley#Fergusonhttp://t.co/DzOPZx6eIohttp://t.co/WyumH2hcaF??

— The Independent (@Independent) December 24, 2014
MORE: Fatal cop shooting near Ferguson, Missouri, sparks clashes http://t.co/4GWn52uY6d

—

NBC

News (@NBCNews) December 24, 2014