18-year-old black man shot dead by police in US, near where teenager Michael Brown was killed
Comments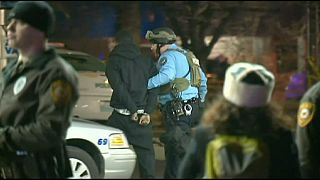 Police in the US have shot dead an 18-year-old black man, near where the killing of another black teenager by police sparked nationwide demonstrations.
Crowds have gathered at the scene of the latest shooting, in a petrol station forecourt in a suburb of the city of St Louis.
This is just minutes away from Ferguson, where unarmed teenager Michael Brown was shot by a white officer in August.
Police say the man shot in the petrol station in the suburb of Berkeley had pointed a handgun at an officer who approached him and another man.
"Fearing for his life, the Berkeley Officer fired several shots, striking the subject, fatally wounding him," St. Louis County Police Department spokesman Brian Schellman said in a statement.
The police say the second man fled the scene.
The St. Louis Post-Dispatch newspaper named the dead man as 18-year-old Antonio Martin, citing his mother, who said he was with his girlfriend around the time of the shooting.
"They won't tell me nothing. His girlfriend told me that the police was messing with him," the man's mother, Toni Martin, told a local broadcaster. "When he was trying to get up and run, they start shooting."
In Berkeley at fatal officer involved shooting, fights, explosive device thrown into fight, brief fire at QT put out pic.twitter.com/0JovSbrJVp

— David Carson (@PDPJ) December 24, 2014
Berkeley officer fatally shoots teenager http://t.co/9UvC8HmAbp

—

STL

today (@stltoday) December 24, 2014
The mother of #AntonioMartin: 'They started shooting. That's my baby' #berkeley#Fergusonhttp://t.co/DzOPZx6eIohttp://t.co/WyumH2hcaF??

— The Independent (@Independent) December 24, 2014
MORE: Fatal cop shooting near Ferguson, Missouri, sparks clashes http://t.co/4GWn52uY6d

—

NBC

News (@NBCNews) December 24, 2014