Former US President George HW Bush admitted to hospital
Comments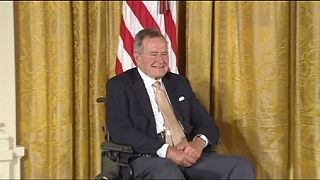 Former US President George HW Bush is in hospital after experiencing shortness of breath.
A spokesman for Mr Bush said he had been admitted to the Houston Methodist hospital in Texas as a precaution and for observation.
Bush spent several weeks in the same hospital two years ago, suffering from bronchitis and related problems.
Although no longer able to use his legs, the 41st president of the United States made two public appearances last month.
A naval aviator during World War II, he celebrated his 90th birthday in June with a tandem parachute jump near his home Maine.
The one-term Republican is the oldest living former US president.
President Obama, who is currently on holiday in Hawaii, sent good wishes to Mr Bush and his family.