France tells people to enjoy Christmas, but stay vigilant
Comments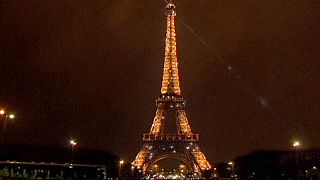 Have a relaxing Christmas, but keep personal safety in mind when out in public.
This year we haven't noticed any difference in our customers' behaviour
That is the message from French authorities as they step up security in popular outdoor places.
Up to 300 extra soldiers are on patrol after three acts of violence in as many days left one dead and 30 wounded.
In two of the attacks vehicles were rammed into pedestrians.
But that has been far from the minds of many people shopping on Christmas eve.
And some stores say there is still big spending going on, despite difficult financial times.
Agnes Vigneron, a manager at the Galeries Lafayette Haussmann department store in Paris, said:
"I think we are more likely to spoil our friends than ourselves at Christmas, so if one has to save money, it's for yourself and not for others.
"So for Christmas people spend their money like in previous years. This year we haven't noticed any difference in our customers' behaviour."
And there are always those who shop right up until the stores close.
Shopper Claire Kung said: "Yes, we're short of time, shopping right up until the last minute. This store is big enough to find what we're looking for."
And while we may be inundated with depressing footage of bad news around the world, it is good to know there is also no shortage of heart-warming images this festive season.
Christmas trees, Santa Clauses, ice-skating rinks and festive lighting have been big hits in many cities.
This year, Madrid's Christmas lights took a walk on the Moon—PHOTOS: http://t.co/WFjmePVmYEpic.twitter.com/YUdI1DcB8Q

— Slate (@Slate) December 24, 2014
The 1st electric #Christmas tree lights were created in 1882. Read all about the festive invention here: http://t.co/VP5wAWt4p2

—

HISTORY

(@HISTORY) December 24, 2014
Reasons to LOVE London at #Christmas: the LIGHTShttp://t.co/dpge0qmUtWpic.twitter.com/5My6jPJ0j2

— The Culture Trip (@CultureTrip) December 24, 2014
Christmas lights at the Helmsley Building #NYCgigi_nyc</a> <a href="http://t.co/FLehidjvKa">pic.twitter.com/FLehidjvKa</a></p>&mdash; EverythingNYC (EverythingNYC) December 24, 2014
Definitely the most stunning display of Christmas lights we've seen — http://t.co/KDSicvFLTH

— Stan Schroeder (@franticnews) December 24, 2014
Definitely the most stunning display of Christmas lights we've seen — http://t.co/KDSicvFLTH

— Stan Schroeder (@franticnews) December 24, 2014
People walk under #Christmas lights and decorations inside Galeries La Fayette store in #Paris#Francepic.twitter.com/jYwzU7saOe

— Anadolu Images (@anadoluimages) December 18, 2014