Street celebrations to mark Tunisian election result
Comments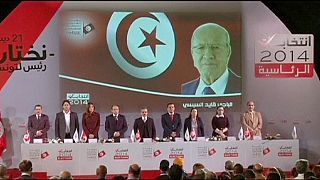 Nearly four years after the Arab Spring protests, Tunisians returned to the streets on Monday night; this time to salute their new president.
You have no idea how happy I am; I have not slept since yesterday.
No sooner was Beji Caid Essebsi declared the winner of Sunday's run-off, than thousands of his supporters danced, sang and waved the Tunisian flag in celebration.
Essebsi won the second round vote with 55.68 percent of the vote, against rival and incumbent Moncef Marzouki's 44.32 percent.
One Tunis resident, Hakimi said:
"You cannot imagine how happy I am. This is the joy of independence and we are no longer at the bottom of the well. You have no idea how happy I am; I have not slept since yesterday."
Another Essebsi supporter said an independent, free Tunisia had returned.
"Tunisia's flag flies around the whole world. Over the past three years, we had been restrained, deprived and terrorised. Long live Tunisia and Beji," said Abdelkrim.
The election was the first time Tunisians had picked their president since independence from France in 1956.
Essebsi hit out at his rival claiming that Marzouki had "ruined" Tunisia since the 2011 revolution.
But critics say far from the emergence of a new democracy, Tunisia is now witnessing the return of the old guard under their new leader.