North Korea human rights 'a living nightmare'
Comments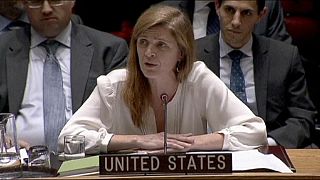 The United Nations Security Council has over-ruled objections from China and Russia and held a session about North Korea's human rights record.
Monday's council meeting came days after the UN General Assembly voted in favour of referring Pyongyang to the International Criminal Court to face charges of crimes against humanity.
The US Ambassador to the UN Samantha Power said North Korea was a "living nightmare":
"Not content with denying freedom of expression to its own people, the North Korean regime now seems intent on suppressing the exercise of this fundamental freedom in our nation. (…)This is absurd. Yet it is exactly the kind of behavior we have come to expect from a regime that threatened to take 'merciless countermeasures' against the U.S. over a Hollywood comedy, and has no qualms about holding tens of thousands of people in harrowing gulags."
The US has accused Pyongyang of hacking Sony Pictures, leading to the cancellation of the release of a film which depicts the assassination of the North Korean leader.
On Monday, North Korea suffered severe internet outages, which were later partially restored.