Memorial services held in Sydney for cafe siege victims
Comments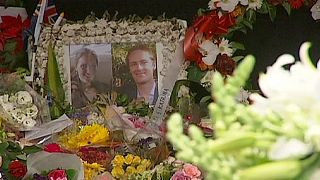 Hundreds of mourners gathered at a Sydney church this morning for the funeral of 34-year-old cafe manager, Tori Johnson. Johnson was killed while reportedly attempting to disarm the gunman who held 17 people hostage at a city cafe last week. Several of the other hostages were at the funeral, which was held just metres away from the cafe where the 16-hour siege took place.
A separate memorial service was held today for 38-year-old lawyer Katrina Dawson, who was also killed during the siege. Her three children, aged 4, 6 and 8 each chose a song for the service: "Santa Claus is Coming to Town", "Somewhere Over the Rainbow", and "The Gambler." Dawson's friend and fellow hostage, Julie Taylor, was among the mourners.
An official investigation into the deaths of Johnson, Dawson, and gunman Man Haron Monis is underway. All three died during the final moments of the siege when police stormed the cafe in Sydney's central business district.