Abbas will 'no longer deal with Israel' if UN statehood resolution fails
Comments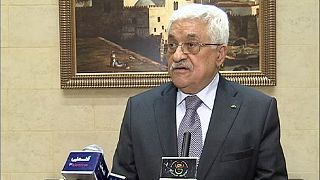 Palestinian President Mahmoud Abbas has warned he'll cut all ties with Israel if the draft United Nations Security Council resolution on statehood fails.
Abbas said his unity government was determined to restore the rights of the Palestinian people.
Under the plan, a peace deal must be reached within 12 months of its signing and Israel must withdraw from Palestinian territories by 2017.
The Palestinian delegation to the UN has confirmed it included East Jerusalem as the capital of the Palestinian state in the draft document submitted last week.
The international community has never endorsed Israel's sovereignty over the whole of the city, which they declared in 1980.
The Security Council is expected to vote on the draft in the next few days.
On Tuesday, the latest clashes between Palestinians and Israeli forces in the West Bank took on a Christmassy feel.
Several people, dressed as Santa Claus, gathered at Bethlehem checkpoint to protest the occupation.
The Israeli army said around 80 protesters hurled rocks at riot teams.