Spain's Princess Cristina to stand trial on fraud charges
Comments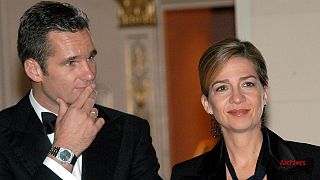 Spain's Princess Cristina is to stand trial on fraud charges relating to her husband's business dealings.
It marks the first time a relative of a monarch will be tried.
Judge Jose Castro in Palma Mallorca has charged the king's sister on two counts of tax fraud in the long-running corruption case which involves her husband former Olympian Iñaki Urdangarin. It centres on a sports charity set up by her husband.
The judge is investigating whether they pocketed up to 5.6 million euros destined for the charity to finance an extravagant lifestyle. Both the princess and her husband have denied the charges.
Public support for the monarchy has plummeted in the wake of the scandal, hitting a record low.