Romania marks the anniversary of the 1989 Revolution that toppled Nicolae Ceaușescu
Comments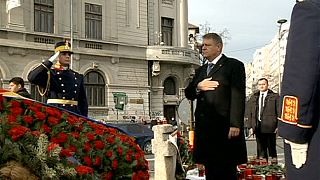 Romania is marking the 25th anniversary of the 1989 Revolution that toppled the regime of Nicolae Ceaușescu and brought an end to 42 years of Communist rule in the country.
Newly installed President Klaus Iohannis laid a wreath to honour those that lost their lives in the violence.
Tributes to the those involved took place across the country and at key sites in Bucharest, such as the Romanian Radio Corporation, Parachutists Cross and the Romanian Public Television building.
The Revolution stretched from 16-27 December 1989.