Anniversary of the final days of Ceaușescu regime
Comments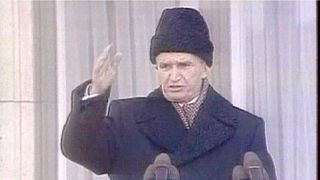 Christmas Day marks the 25th anniversary since the death of Nicolae Ceaușescu, one of the most feared and tyrannical leaders in Europe in the last century.
The Romanian dictator, known as the "Genius of the Carpathians", was in denial right until the end of his life that his harsh Communist regime was crumbling before his eyes.
However, not facing up to reality was something he had grown accustomed to during his 22 years in power. His life of luxury starkly contrasted with the impoverished conditions experienced by the vast majority of Romanians.
In December 1989, protests began in the city of Timisoara, initially in support of a Hungarian pastor who was the target of a government sponsored eviction. Soon the number of demonstrators grew and a revolution against the regime erupted.
Within days, a rally organised by Ceaușescu in Bucharest to reassert his authority and support among the population did not go as planned, his speech met by an angry crowd hungry for change.
The Revolution had reached the Romanian capital and quickly spread to other towns and cities.
When the army switched sides and joined the protests, Ceaușescu and his wife Elena fled Bucharest and were eventually arrested.
Their trial took place on Christmas Day 1989 on the orders of the interim government.
Despite his protests, Nicolae and Elena were sentenced to death by firing squad, their execution recorded to confirm the end of a dark period in the history of Romania.
Among the charges brought against them were genocide and the illegal gathering of wealth, which Ceaușescu denied.
The death of the couple, the last people to be executed in Romania, marked the beginning of the country's shift to democracy, a process that led to free elections just months later.