Italian coastguard intercepts merchant vessel packed with Syrian migrants
Comments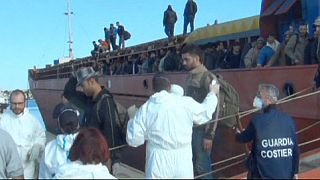 The Italian coastguard has intercepted a large merchant vessel carrying 850 Syrian migrants.
Authorities claim the boat's autopilot was defective and officers had to board the ship to deactivate the mechanism.
The price of passage for each of the migrants ranges from four to six thousand euros, with people smugglers buying the ships,illegally, from scrapyards.
The boat is thought to have set sail from the Turkish port of Mersin close to the border with Syria.
The vessel was guided to the Italian port of Augusta in Sicily.
Italy says more and more merchant ships full of Syrian nationals are heading towards its south coast in order to escape the ongoing war in Syria.