US mourns NYPD officers killed in apparent retribution attack
Comments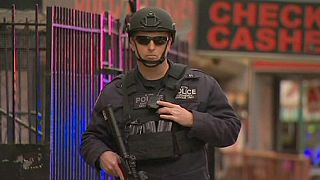 A gunman has shot dead two New York City police officers before then killing himself.
It has been reported that the 28-year-old shooter from Baltimore, named as Ismaaiyl Abdula Brinsley, had earlier fired at his former girlfriend and wounder her.
Law enforcement officers there had warned NYPD officials that Brinsley had posted on social media that he was planning to kill police in retaliation for the deaths of Eric Garner, a black man who died when white officers tried to arrest him in New York and Michael Brown in Missouri.
"Our city is in mourning, our hearts are heavy, we lost two good men, who devoted their lives to protecting all of us. Officer Ramos, Officer Liu, died in the line of duty, protecting the city they loved," said New York City Mayor, Bill de Blasio.
The two NYPD officers 40-year-old Rafael Ramos and 32- year-old Wenjian Liu were murdered as they sat in their patrol car in Brooklyn.
Police investigators said they had no time to react when Brinsley appeared next to their vehicle and fired a semi-automatic handgun at them.
He then reportedly fled to a nearby subway station and shot himself.
US President Barack Obama has condemned the killings.
Meanwhile, in a seperate incident in Florida, a police officer was shot and killed in an incident near Tampa.