Kyiv terror plot foiled, says Ukrainian security service
Comments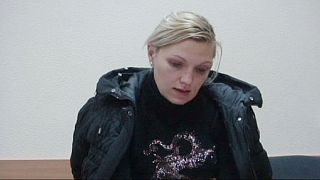 Ukraine's security service said it has foiled a terrorist plot to cause mass casualties in its capital Kyiv.
The country's counter intelligence agency alleged a Ukrainian woman living in rebel-held Luhansk was found 800 kilometers away in Kyiv with a bomb in her bag.
The explosives were the equivalent of more than three kilograms of dynamite – equal to 30 grenades," explained security advisor Markiyan Lubkivsky to reporters gathered for a news conference in Kyiv.
"Had a terrorist attack taken place in the crowded area, mass casualties would have been unavoidable," he added.
Lubkivsky alleged the attack had likely been orchestrated by Russian military intelligence.
The Ukrainian security service showed pictures of what it claimed was the explosive device in the woman's bag, and what they said was her "confession video".
A senior Ukrainian official claimed she was being handled by a Russian, codenamed "Konstantin."
"Konstantin gave me a bag containing something that would make the Ukrainian soldiers uncomfortable," the woman said in the video. "When I got on the bus I knew that there were explosives in that bag."
Ukraine's security service did not reveal how the woman came to their attention.
There was no comment from Russia's defence ministry.