More protests in Haiti as country faces prospect of starting 2015 without a government
Comments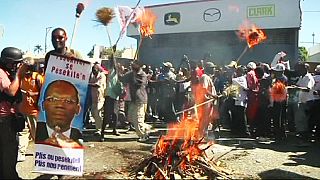 Waving banners including phrases like "Down with the occupation" anti-government protesters have taken to the streets of the Haitian capital to demand that the president resign.
Last week violent protests left at least one person dead, but the resignation of the former prime minister has not appeased people, angered by corruption allegations and delayed local and legislative elections.
"We're not going to enter into negotiations with President Martelly. We want Martelly's resignation. Today we have the rope, and if we find him, we will tie him up," said one opposition activist.
Parliament's upper house, the senate, sees its mandate end in January, so the island, still trying to recover from 2010's devastating earthquake, potentially faces a period of no government at all.
Many protesters brandished posters of former president Jean-Bertrand Aristide, twice-ousted by the military, and since returned to Haiti after a seven-year exile.