Fifa begin corruption report meeting
Comments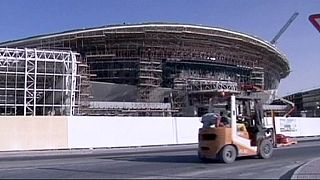 The decision whether or not to release a redacted version of a report into alleged corruption during the bidding process for the 2018 and 2022 World Cups will be decided in the coming days.
Amid growing public pressure FIFA's executive committee began a two-day meeting in Marrakech on Thursday.
The meeting comes a day after former ethics investigator Michael Garcia quit in protest at the handling of his corruption report.
Garcia's 430-page report was whittled down to a 42-page summary by Fifa's ethics judge Hans-Joachim Eckert.
But Garcia insists the summary was erroneous and his subsequent appeal was rejected by a Fifa panel.
Fifa and its president Sepp Blatter are now facing one of their most critical ever decisions as a major dark cloud of widespread global mistrust hovers firmly above world football's governing body.