Rouble's fall sends Russians rushing to shops to buy before prices rise
Comments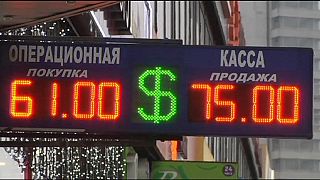 Wednesday was another rollercoaster day for the rouble and the Moscow stock markets.
There was some respite for the slumping rouble and Russian shares on Wednesday, but the situation remains extremely volatile amid fears of a prolonged crisis, and Russians are buying imported goods as quickly as they can before prices rise
The Russian currency and share prices strengthened after the finance ministry said it would use its foreign currency reserves to support the rouble on top of what the central bank is doing,
Even though it turned out the ministry was only talking about $7 billion of money it had left over in its budgets before the end of the year, it was enough to help boost the rouble slightly.
The Moscow RTS index also bounced back a bit, finished Wednesday's session up 14.4 percent.
However the situation remains extremely volatile amid fears of a prolonged crisis.
Prime Minister Dmitry Medvedev met government and central bank officials on Wednesday along with major exporters – mostly energy firms.
Afterwards he said: "What we are seeing today is mainly emotional games. It is in our interests to bring order to the markets, no citizen, nor any bank or any industry gains from instability."
He added there was no need for limits to be imposed on currency exchange.
But the plummeting rouble has sent many Russians running to the shops to buy expensive imported items like electronics in anticipation of price hikes.
They are driven by memories of the 1998 Russian financial crisis, when the currency collapsed within a matter of days.
One shopper said: "We just bought several electronic devices: a washing machine which previously sold for 30,000 rouble now costs 38,000."
Another added: "You absolutely should spend your money now. This is the time."
Swedish furniture giant IKEA – like many firms that import their products – said it will put up its prices on Thursday which saw the aisles packed on Wednesday afternoon.
While Apple halted online sales in Russia as fluctuations in the value of the rouble made it impossible to price its products.
People trying to buy just got an on-screen message which read: "We'll be back. We're busy updating the Apple Store for you and will be back soon."