Australia security laws probed as inquiry begins into Sydney hostage tragedy
Comments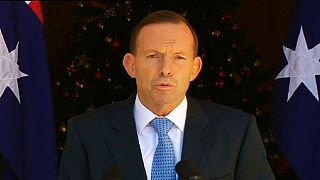 Australia's security laws and bail system are under scrutiny following the deadly hostage crisis in a café in Sydney.
Iranian refugee Man Haron Monis died along with two of his captives when police stormed the café early on Tuesday morning.
The hostage-taker was known to the authorities. He'd been charged as an accessory to murder with dozens of counts of sexual and indecent assault, but was free on bail.
Despite new security laws he was not on any security watchlist and had a gun.
The prime minister has announced an official inquiry.
"We do need to know why the perpetrator of his horrible outrage got permanent residency. We do need to know how he could have been on welfare for so many years. We do need to know what this individual was doing with a gun licence," Tony Abbott said.
Iran's foreign ministry says it had repeatedly warned Australia about the hostage-taker's psychological and criminal background.
As the inquiry gets underway an area outside the café has become an impromptu shrine as people continue to lay flowers in tribute to the victims.
Police are investigating whether the two captives who died – lawyer Katrina Dawson and bar manager Tori Johnson – were killed by the hostage-taker or in the crossfire during the rescue operation.
The criminal justice system in New South Wales is also under scrutiny. Lawyers say chronic under-funding has led to delays between arrests and cases being heard, with people being kept on bail for longer.
New tougher bail laws have yet to come into force.