Focus on children's education, says Santa Claus
Comments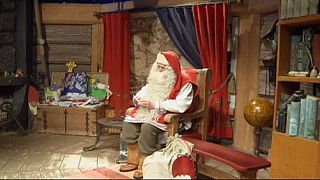 Hundreds of thousands of letters addressed to Santa Claus have been arriving in his village in the Arctic Circle.
While they were being opened and read by his helpers in the busy post office, Santa said the world's conflicts had made it a bad year – but that Christmas was a festival of love, compassion and caring.
But as he prepared to head off on his round-the-world journey, the man with the white beard added that it was a time to look positively towards the future.
"Concentrate on the education of children. The children wherever they are, they should get the best possible education and those responsible should help and support them in whatever ways and means they can. This is my Christmas wish. I wish you all a very Merry Christmas and a very Happy New Year," he said, sitting in his chamber.
This year's Nobel Peace prize winners Malala Yousafzai and Kailash Satyarthi received their awards for their work for children's rights and Santa also stressed the importance of education for children.
Rovaniemi is one of the main tourist destinations in Finland for foreign visitors.
In 2012, the Santa Claus village attracted about 310,000 people, with most visitors coming from Russia, Japan, Finland, Germany and Italy followed by China, France and Spain.
This year has seen an increase in visitors from Asia and a decrease in the number of Russian tourists.