Sydney siege: Five hostages run from cafe
Comments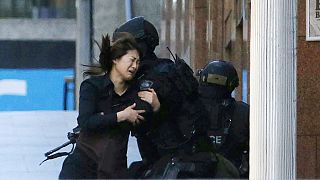 Five people have run out of the cafe at the centre of a siege in Sydney several hours after the incident began.
Two women and three men were seen running from the exits of the building housing the Lindt Cafe in Martin Place where a gunman has taken an unknown number of hostages.
It is unclear whether the hostages had been released or had escaped.
Dozens of heavily armed police have locked down the centre of the city and are said to be in contact with the gunman.
The siege began around 9.45am local time. Within minutes of the suspected gunman arriving a black flag with Arabic writing was seen raised to the window.
One member of the public described the suspect:
"He was quite tall, probably late forties. Had a long white sleeve shirt on with a black vest. And he was very calm, he was just pacing."
Prime Minister Tony Abbott, who has warned of militant plans to attack Australian targets convened a meeting of the cabinet's national security committee for a briefing.
During a press conference earlier he said: "We have to appreciate that even in a society such as ours there are people that would wish to do us harm. That's why we have police and security organisations of the utmost professionalism."
British Prime Minister David Cameron tweeted a message of concern.
I was briefed overnight on the siege in Sydney. It's deeply concerning and my thoughts are with all those caught up in it.

— David Cameron (@David_Cameron) December 15, 2014
Concerns about an attack in Australia by radical Islamist has been growing over the last year with security agents raising the terrorism threat level to 'high' in September.