EU warns Turkey over dozens of media arrests
Comments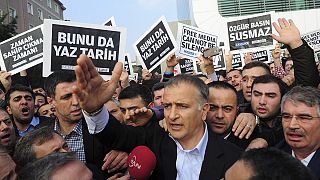 There has been outrage both within Turkey and internationally to the mass arrests of journalists, and broadcasters.
Along with street protests the EU has condemned the detention of more than 30 people saying the attack on the Press goes against European values.
On Sunday Turkish police raided the offices of a leading newspaper and TV station said to have close links with opposition parties.
Mustafa Yesil who is the chairman of the journalists and writers foundation said: "These were the only anti-government media outlets. Maybe millions were expressing themselves through these media outlets. The autocratic regime controlled by one person is now trying to prevent this too but people have no intention of letting him."
The arrests mark an escalation of a battle between the ruling AK Party and US-based Muslim cleric Fetullah Gulen who the party accuses of orchestrating a movement to seize state control.
Following the arrests Turkish Prime Minister Ahmet Davutoglu gave a strong warning:
"Those who have infiltrated state institutions, those who have wire-tapped the most private of meetings of the prime minister and the president , those who conspired against the national intelligence agency, they should realise they wont go unpunished."
The raids come days after President Recep Tayyip Erdogan pledged a fresh campaign against Gulen's supporters.
A whistle-blower had used social media to warn the arrests were imminent.
Turkey is currently looking to become a member of the European Union.