Raids across Turkey target media outlets linked to Erdogan foe Fethullah Gulen
Comments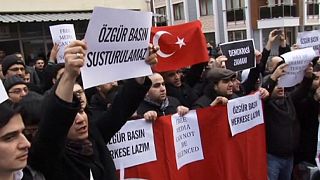 More than 30 media workers have been arrested during raids on organisations across Turkey.
Turkish police raided the offices of Samanyolu Television and Zaman newspaper detaining executives and broadcasters.
Both media organisations are known for their ties to Muslim cleric Fethullah Gulen, a powerful former ally of Turkish president Recip Tayyap Erdogan, now in exile.
The operation had been expected for several days after a widely-followed Twitter account said some 400 people, including around 150 journalists regarded as Gulen supporters, were being monitored.
The Twitter account has previously given advance warning of police operations, allowing supporters to gather in anticipation of the raids.
The ruling AK party has been in conflict with Gulen since a corruption investigation targeting Erdogan's inner circle emerged one year ago.
The probe led to the resignation of three ministers and prompted Erdogan to purge the state apparatus, reassigning thousands of police and hundreds of judges and prosecuters.
Erdogan has also pushed through legislation increasing government control of the judiciary, most recently a law restructuring two top courts. Prosecuters have meanwhile dropped corruption cases.
Erdogan has described Gulen supporters in the past as terrorists and traitors.
The president said on Friday that he would pursue Gulen's powerful Hizmet organisation into their "lairs".
The cleric denies accusations that he is looking to overthrow Turkey's government.