Protesters in Moscow take to the streets against the city's education and health cuts
Comments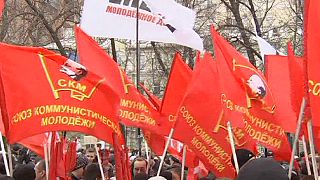 The authorities in Moscow have enraged doctors and teachers with cuts leading to schools and clinic closures. Facilities are being regrouped as the all-public system is rejigged for the introduction of an insurance-based scheme.
The state will allocate sums of money to yet-to-be-set-up insurance companies, which will take over all medical payments.
"This action is naturally a protest action. They cut the budget for medicine, education, they sack medics and combine schools. Of course, people are not happy, and we came to make a protest," said Dr. Mark Galperin, a member of the "Civil Initiative" movement.
"I am indignant at what is being done by the authorities to the people. I don't think we are the opposition. The opposition is the government which should meet the demands of the people. The government is in opposition to the wishes and opinion of the people," said one woman in a wheelchair.
While Russia enjoys many excellent doctors and some first-class facilities overall the system is awful and the authorities claim the changes are to create a more efficient and more modern system, where people spend less time in hospital.