Death toll reaches 37 after mudslide near Jakarta, Indonesia
Comments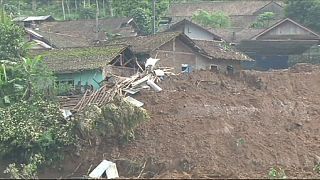 At least 37 people are now known to have died in Indonesia after more than 100 homes were swept away by mud gushing into Jemblung village in the centre of Java province.
Hundreds of people have been sent to shelters.
Indonesia's national disaster agency said the evacuation route had been damaged, however heavy lifting equipment was used to clear roads on Sunday as the country's president visited the scene of the slide.
Scores of people are still missing.