Merkel interrupts TV interview after feeling 'dizzy'
Comments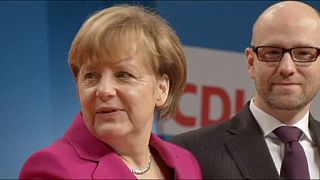 Chancellor Angela Merkel had to interrupt a TV interview on Monday night after feeling dizzy.
But after a short break and something to eat and drink she carried on.
The German leader was speaking to ZDF television, one of a series of interviews ahead of Tuesday's congress of her conservative Christian Democrats (CDU) party.
"The chancellor was feeling unwell for a moment – then had something to eat and drink before continuing with the interview after that," CDU spokesman Steffen Seibert said in response to a report in the Hannoversche Allgemeine Zeitung.
Merkel is set to be re-elected as party leader for an eighth two-year term.
Last time round in 2012 she secured 97.9 percent of the vote, and with no opponent this time the only question is how big the score will be.
Now in her third term as German Chancellor, Angela Merkel's dominant position is stronger than ever.
She sits abreast a ruling coalition of her own Christian Democrats and the Social Democrats (SPD) that has 80 percent of the seats in the Bundestag.
In a recent poll two-thirds of Germans gave her a positive rating, and another survey suggested a majority wanted her to run for a fourth term as Chancellor in 2017.
In Europe Germany is a regional superpower and Merkel's views dominate.
Indebted southern European countries have been forced into drastic austerity measures.
In a newspaper interview at the weekend, the Chancellor criticised France and Italy for failing to go far enough with economic reforms.