Great Prison Bake-off in Italy aims to change lives
Comments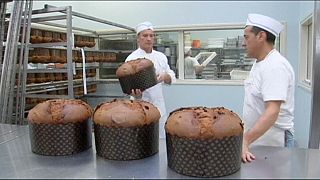 From inmate to pastry chef, a cooperative in Padua has opened Italy's only bakery behind bars.
Those serving time are serving up 70,000 Pannetonni cakes each year to 200 shops in the country in time for the festive season.
Repeat offenders are a real problem in Italy whose prisons are amongst the most crowded in Europe.
The scheme aims to build skills and confidence to avoid re-offending.
The man behind the operation Nicola Boscoletto explains that, "they start to change, they become the type of good worker that it is hard to find even outside, because they regain their dignity, self-esteem.They are able to send home money to their families."
"It's luck that I was assigned to Padua, where there is this model to follow. Now I have a job, I've learnt an art," said Marco one of the prisoners on the baking scheme.
Re-offending rates dropped to 1-2 percent from a national average of 70 percent showing the proof is in the pudding.