Priceless statue loan to Russia by Britain riles Greece
Comments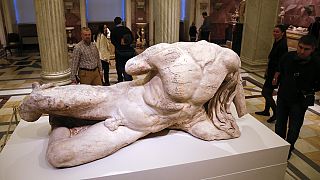 It's not certain what comes first here: diplomacy or politics.
The 2,500-year-old sculpture of the river god Illissos is on a pedestal in St. Petersburg. It has been since Saturday, infuriating Greece.
The British Museum kept this loan a secret till the last minute.
Trustee Richard Lambert said loaning is common practice — though maybe not the Elgin Marbles: "We are in the business of lending. Last year, the British Museum lent over 5,000 objects to 330 museums around the world. That is what we do. If we are certain the object can travel, if we are certain it will come back, if we are certain it is going to an institution that will love it and show it to the public, then we are happy to do it."
Illisos is one of the Elgin Marbles, which have hardly been out of the curators' sight since 1816, and the State Hermitage Museum in St. Petersburg is borrowing it as part of its 250th anniversary celebration.
The International Association for the Reunification of the Parthenon Sculptures says the loan to Russia is "highly provocative and a very rude gesture." Greece considers they were stolen.
Many question why the first country allowed to borrow any of them is one that many Western democracies are on bad terms with.