Safety helmet saves Serbian minister from falling ice
Comments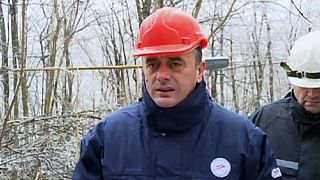 Serbia's energy minister unwittingly illustrated the dangers posed by a cold snap as he toured an eastern region.
Aleksandar Antic was saved by his helmet when a large chunk of ice weighing three kilos fell from an overhead cable.
The helmet was flung from his head and was revealed to have split open.
The accident happened right in front of TV cameras as the minister was giving an interview.
Earlier this week the icy conditions and strong winds brought down power lines, depriving thousands of electricity in the hilly region near the Romanian border.
Emergency services later restored power to some 5,000 people in the municipality of Majdanpek, after three days of struggle with the elements.