Greenwashing: misleading green advertising
Comments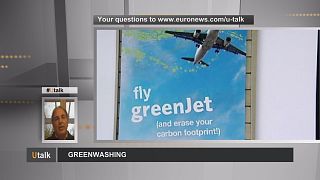 Exaggerated environmental claims are under scrutiny in this edition of Utalks.
I would say that common sense is also a good ally when it comes to rhetoric that seems too green to be true."
The question comes from Güntheri in Leipzig, Germany: "Some brands and organisations rely on catchphrases favouring the protection of the environment by pure commercial opportunism – what's called 'greenwashing'. How does this marketing technique work?"
The response is from Professor Edwin Zaccai of the Free University of Brussels, Director of the Centre of Studies for Sustainable Development: "I suppose we could translate 'greenwashing' into 'greener washing', as we used to say 'washing whiter than white'. We talk about greenwashing whenever the communication of a commercial company or a public institution gives an image of their products in which the ecological aspect is exaggerated compared to reality.
"This is the case, for instance, when a manufacturer leads us to believe that an electric car has no ecological impact at all. We all know that there is often an ecological impact when producing electricity or in manufacturing a car. Another example is when oil or electricity companies focus on their research on renewable energies in their advertising, whereas figures show that that research only accounts for a small part of their activities.
So, the idea behind greenwashing is to take advantage of the consumer or citizen's desire to get greener products and services to promote their goods or their brands. And strictly speaking, it is difficult to avoid greenwashing, especially as public relations professionals know how to deliver those messages and images subtly.
"However, when you study public opinion, you can see that people don't trust very much those kinds of 'green' claims. And that's why, instead, it seems wiser to rely on ecological labels, on scientific or NGO reviews that are able to give an independent opinion on those ecological allegations.
"To conclude I would say that common sense is also a good ally when it comes to rhetoric that seems too green to be true."
If you would also like to ask a question on Utalk, click on the button below.