Rebel raid on Chechen capital Grozny leaves 20 people dead
Comments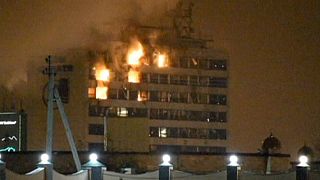 "We didn't expect this to happen, the devils showed their last strength."
We didn't expect this to happen, the devils showed their last strength
So said Chechnya's Kremlin-backed leader Ramzan Kadyrov after heavily-armed rebels stormed its capital Grozny.
In the fierce gunbattles that followed, at least 20 people were killed.
The rebels attacked a police checkpoint before moving to a school and a building housing the media where they battled members of the security forces.
Ten policemen were killed and nearly 30 injured according to Russia's National Anti-Terrorism Committee which said 10 suspected militants also died in the fighting.
Footage obtained by Reuters showed clashes at night and in the morning that included persistent small arms fire and what looked like a shoulder-fired missile striking the media building.
Workers there said one civilian had suffocated to death as fire engulfed the building, though authorities did not confirm the report.
An Islamist group has claimed responsibility, saying it was revenge for "the oppression of Muslim women".
The bloodiest fighting in Chechnya for months erupted just hours before President Vladimir Putin 's big state of the nation speech in Moscow.
It underlines the fragile security situation in the turbulent southern Russian region more than a decade after Putin sent troops in to quell an Islamist separatist uprising.