Iranian ambassador escapes car bomb in Yemeni capital
Comments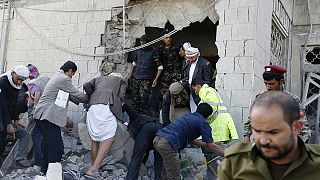 A suicide car bomber has driven his vehicle into the residence of the Iranian ambassador in the Yemeni capital Sanaa.
At least three people have been killed and another three injured.
The explosion left a huge hole in the building in the heavily-guarded diplomatic district, but the ambassador was not home at the time of the attack.
Shi'ite Muslims allied to Iran took control of Sanaa in September, and then spread out across the country, clashing with Sunnis, and
Yemen's branch of al-Qaeda.