Iranian ambassador escapes suicide car bombing in Yemeni capital
Comments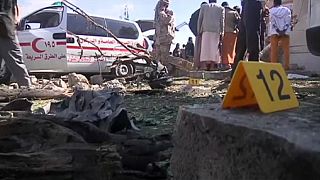 Officials in Yemen say one person died and 17 have been injured following a car bomb attack against the Iranian ambassador's
residence in the capital, Sanaa.
Hospital sources say three people died, but the ambassador was not present at the time. Most of the casualties were civilians.
The identity of the suicide bomber is unknown, but Shi'ite militants backed by Iran took over Sanaa in September, and have been clashing with Sunnis and al-Qaeda in Yemen as they try to extend their control.
"The explosion was terrible. It shook the entire neighbourhood, most of the houses have broken windows," said one witness.
"The explosion was huge. The car's engine was thrown 300 metres and houses were damaged. Our company evacuated its agents as the damage was serious all around the area," said another.
How the bomber managed to penetrate the high-security diplomatic zone in the city will be investigated at length, but a similar incident occurred in October when al-Qaeda claimed responsibility for killing 47 people at a Shi'ite checkpoint.