Occupy Central leaders urge Hong Kong protesters to retreat
Comments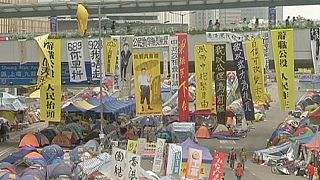 Hong Kong's pro-democracy activists are receiving mixed messages.
Just hours after a student leader urged them to regroup, protesters are now being called upon to evacuate sites in the city centre in an appeal from the three co-founders of the Occupy Central civil disobedience movement, who say they will 'surrender' to police on Wednesday.
"We respect the students and citizens' determination to fight for democracy but we are furious at the government's heartless indifference," said one of the trio, Benny Tai, a law professor at the University of Hong Kong.
Continuing to read from a statement, he added: "A government that uses police batons to maintain its authority is a government that is beyond reason. For the sake of the occupiers' safety, for the sake of our original intention of love and peace, as we prepare to surrender, we three urge the students to retreat."
Instead, activists in the former British colony were called upon to "put down deep roots in the community and transform the movement".
More radical student groups have moved increasingly to the forefront of the pro-democracy campaign spearheaded by Occupy Central. Student leader Joshua Wong, 18, and two
others are on hunger strike to pursue their campaign for electoral reform.
On Monday, protesters, who have occupied key streets for more than two months, forced the temporary closure of government headquarters after clashing with police.
While split over tactics, they are united in demanding full democracy for the Chinese-controlled city.