Pope Francis expected in Turkey
Comments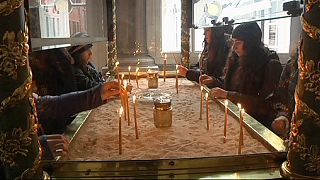 Pope Francis is expected in Turkey on Friday on his first visit to the predominantly Muslim country.
During his three-day stopover he is expected to visit Ankara and Istanbul and is expected to deliver a speech on Christian-Muslim relations.
With a war raging on Turkey's doorstep where Islamist militants have seized swathes of Iraq and Syria, and Christian communities are coming under assault, the pontiff has decided not to visit refugees displaced by the violence.
"I don't know how much time he has to go there this time," explained Dositheos Anagnostopoulos, an Orthodox priest and spokesperson for Istanbul Patriarchate- "But I know he has opinions about this problem, and he will mention this issue in Ankara or Istanbul without having to interfere with politics."
Diplomatic tensions persist over the situation in Syria. It appears the Pope wishes to tread lightly.
Turkey is now home to 1.6 million refugees. At the Suruc camp, many who fled from the besieged city of Kobani in Syria were still hoping for some recognition of their plight.
"We need help, either financial or spiritual so our people will survive this pain," said Verde Ahmad, a Syrian refuge who has been living in the camp for the last two months. "This is not life. I don't know what to say. You can see how people live here and our children have no school to go to."
His visit to Turkey comes after a speech on Tuesday where he criticised the EU's response to migrants who meet their deaths crossing the Mediterranean. Increasingly those crossing have fled the violence in Syria.