Clashes as Hong Kong protesters try to regain lost ground
Comments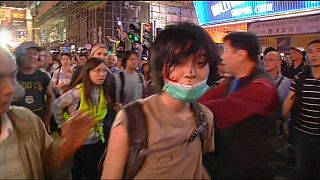 Pro-democracy activists in Hong Kong have regrouped and laid fresh claim to a protest site cleared by police, refusing to give up on their dream of free elections in the Chinese-controlled city.
Demonstrators clashed with riot officers standing firm in the Mong Kok district, scene of some of the most violent confrontations in the two month long civil disobedience campaign.
Holding banners displaying telephone numbers for free legal aid, protesters are striving to maintain momentum with nearly 150 people arrested since Tuesday – including two student leaders at the heart of the movement.
As activists were detained, it was revealed that seven police officers had been arrested in connection with the beating of a pro-democracy protester last month.
The demonstrations started in late September and drew more than 100,000 to the streets at their peak.
The clearance of the site in the working-class Mong Kok neighbourhood is a big breakthrough in the authorities' efforts to end the most tenacious protest movement in the recent history of the former British colony.
A further two protest sites remain, with activists occupying segments of roads and blocking traffic in the city's Admiralty district near government offices and Causeway Bay, a major shopping area.