NATO calls on Russia to respect Minsk peace agreement
Comments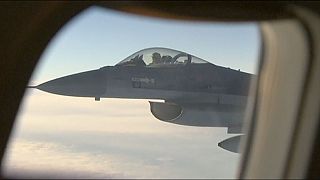 NATO Secretary General Jens Stoltenberg has called on Russia to respect the Minsk agreement and to pull back its troops. He wants Moscow to use all its influence on the separatists as a political solution is needed in Ukraine.
"We have seen a military build-up, we have seen movement of forces, of equipment, of tanks, of artillery, and advanced air defence systems into Ukraine. And this is very serious because it's totally undermining the Minsk agreements," he said.
The Lithuanian President Dalia Grybauskaite who accompanied Stoltenberg on a tour of a NATO air traffic control centre told reporters Moscow did not value its international obligations.
"A country that tells its troops to remove recognition patches, which deploys army and heavy equipment without signs of recognition, such country carries all the signs of a terrorist state," she said.
NATO jets have been scrambled 400 hundred times this year according to the organisation's figures, a number not seen since the cold war. Moscow supports the separatists but denies it is backing the rebels with arms and troops.