Monster blizzard kills 10 in New York state
Comments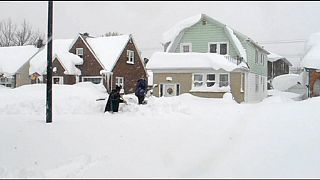 At least 10 people are confirmed dead in the monster blizzard that has struck western New York state and the city of Buffalo in particular.
Cars disappeared in snowdrifts two metres deep in places. Skies are not expected to clear until Friday, and more snow is forecast until then. With people saying the storm is the worst in living memory, the authorities are pulling out all the stops.
"This is I believe the largest deployment of its kind ever. Literally thousands of people from across the state coming into help and hundreds of pieces of equipment coming from as far away as Long Island," said state Governor Andrew Cuomo.
Schools are closed and sports games cancelled, and driving bans are in force on many roads. Such is the weight of snow there are fears for some structures. The thaw could bring problems of its own, as experts say there is a risk of flooding.